Freshman state representative wants to get rid of senate
July 27, 2017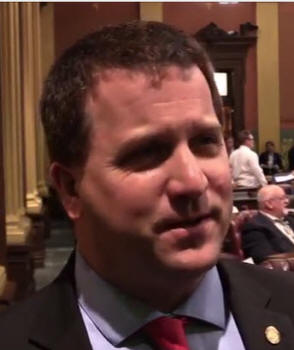 He's been on the job for a little over 6 months and he's planning to restructure state government.
On June 20 of this year, freshman Representative Jeff Yaroch of Macomb County introduced a joint resolution to eliminate the state senate. If approved by the house and senate, an amendment to the state constitution will go on the ballot for a vote of the people.
Under Yaroch's plan, the current house and senate will be abolished December 31, 2018 to be replaced by a unicameral legislature with 110 members, the same number of members as the current house of representatives. These legislators will have been elected in a non-partisan election in the fall of 2018. Terms of office will be 4 years and legislators may serve no more than 4 terms, a total of 16 years. Terms will be staggered; half will end every 2 years. For that reason, the first terms for half the first batch of legislators will be only 2 years.
Yaroch says it will save $50 million a year. Click the picture at the right to hear him pitch his plan.
I'm excited about this because I tried to start a petition drive to eliminate the senate in 2010, along with enacting right-to-work, repealing PERA (the state law that requires local governments to engage in collective bargaining) and banning collective bargaining for state employees. The effort never got off the ground, mainly because I was essentially acting alone and had no money. My "organization" was called the Committee to Transform Michigan. The website I created still exists.
I thought that since senators would never vote to eliminate their own jobs, the only way to get rid of the senate was a ballot initiative. Yaroch's plan reduces senate resistance by allowing sitting senators (and representatives) to run for jobs in the new legislature, where they can serve another 16 years. Currently, senators are limited to two 4-year terms and representatives to three 2-year terms.
My amendment would have eliminated term limits altogether.
Yaroch was a city councilman for the city of Richmond, northeast of Detroit, for 17 years and worked full time as firefighter/paramedic for Clinton Township for 26 years. He also is a licensed attorney. In an article in The Voice, a weekly newspaper owned by the company that also owns the Macomb Daily and the Oakland Press, reporter Barb Pert Templeton says Laroch "said he will miss serving on the Richmond City Council stating that it was always non-partisan so there were no issues with whether someone was a Republican or a Democrat." That may be why he wants the new state legislature to be chosen in a non-partisan election.
Yaroch's proposal deletes Article IV, Section 2 of the constitution which deals with senate membership and the apportionment of senate districts, as would be expected. However, it also deletes Section 3, which deals with apportionment of representative districts. The issue is addressed in Section 1:
The legislature shall consist of 110 members from single-member districts apportioned on the basis of population. Each member shall be nominated and elected in a nonpartisan manner and without any indication on the ballot that he or she is affiliated with or endorsed by a political party.
I asked him about this and he said "with so much debate happening right now about how apportionment is currently done, my resolution only apportions the 110 seats based on population without other criteria. . . I will add specific language on apportionment based on the feedback I receive as the discussions continue."
Here is a side-by-side comparison of Yaroch proposal and my 2010 amendment.
Send comments, questions, and tips to stevenrharry@gmail.com, or call or text me at 517-505-2696. If you'd like to be notified by email when I post a new story, let me know.