Shining a Light on the BWL
September 21, 2009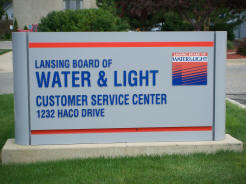 Although the Board of Water and Light is a municipal utility owned by the citizens of Lansing, we don't know much about it. Month after month, we pay our bills for electricity and water assuming that the utility is efficiently and judiciously run and that employees are not extravagantly compensated. Are we naive?
I've spent considerable time and money over the last few months collecting information I thought might be interesting to BWL customers. I started this project after reading a series of articles on the BWL in the Lansing State Journal. Derek Melot, the author of the articles, had to cite the Freedom of Information Act to get much of his information, and so did I. Since the citizens of Lansing own the Board of Water and Light, we should not have to jump through hoops to get information. The BWL has a website that does provide some information, such as Board meeting minutes, but it could provide much more. Here are some suggestions:
A list of current employees with name, job title, exempt/non-exempt status, union affiliation, salary/hourly rate and total earnings for the past year. Earnings for the last year should be broken down into components (regular wages, overtime, premium time, shift differential, bonus, etc.).

The Employee Handbook, including descriptions of all employee benefits (defined benefit program, defined contribution program, deferred compensation program, bonus programs, vacation and free choice time, home ownership subsidy, etc.).

All current collective bargaining agreements.

Any employment contracts with top executives and other non-bargaining unit employees.

Detailed budget for current year.

Detailed accounting of expenses and revenue for past years.

The full story on the coal rail contract with DTE that will allow the citizens of Lansing to save $52 million over the next two years (7/22/2008 Board meeting minutes).
The BWL is governed by an 8-person Board of Commissioners whose members are appointed by the Mayor and confirmed by City Council. Their allegiance should be to the people of Lansing, not the Mayor or the City Council or BWL employees. One way to demonstrate that allegiance is to be completely open with us; to voluntarily provide all the information that could possibly be of interest.
Here are links to some of the information I've gathered:
My report on the BWL has been mentioned in a couple of news stories, one in the City Pulse on June 18, 2009 and one on mlive.com on January 21, 2014.