MERS History: 2004-2005
September 2, 2012
Home
After I retired from MERS in April of 2004, I took a 3-week trip to Hawaii with wife Carol and then went back to work for MERS on contract. MERS abruptly terminated that contract at the end of August. In November 2004, I put up a website called Unknown MERS: Inside the "Champion of Industry". Its address was www.mersdirt.com. It contained lots of stories and documents I'd collected over my 8 years at MERS. I had all this stuff for 2 reasons. One was that I am in the habit of saving anything I write, along with most anything written to me. The other was that I had a CD burner on my PC at work which enabled me to copy all my files, bring them home, and transfer them to my home computer.
After I put up the website, I emailed most of MERS' customers to call their attention to it. I was able to do this because one of the files I had brought home was a list of the email addresses of the "payroll coordinators" for each municipality - a list I'd prepared for my boss so she could email them all of them as a group. Thereafter, I emailed them every time I added something significant to the website.
MERS threatened to sue, but didn't have a case. Later, I sued MERS when they denied a Freedom of Information request. I won. They paid my attorney fees and a $500 penalty. Added to their own attorney fees, it cost MERS just under $13,000.
I let my mersdirt.com domain registration expire at the end of August 2007. The stories that follow are from that website. Click on story title below to jump to story.
Cost of MERS' New Office Building Exceeded $7 Million
MERS moved into its current office building in April 2002. It was a big step up from the cramped quarters MERS had leased since its separation from the State of Michigan in 1996. The total cost of the new building was never made clear to MERS staff or to MERS member municipalities, but CEO Anne Wagner did tell staff that for accounting purposes, the property was being included in MERS' investments portfolio.
In response to my FOIA request, MERS has provided these figures (document):
| | |
| --- | --- |
| Parcel | 861,392 |
| Design and construction | 6,026,652 |
| Furnishings | 496,072 |
| Total: | $7,384,116 |
Termination agreements made several years ago with 3 former MERS employees were furnished by MERS in June 2005 in response to my lawsuit. Links to copies of those agreements are in an article I wrote at that time.
A fourth agreement - in this case, a settlement - was furnished to me 12/16/05 in response to a new FOIA request. This one was for Shirley Roe, who was fired 8/23/04. Shirley's termination was different from the others. The other employees were asked to resign and their salaries were continued for 3-5 months. Shirley was given 2 weeks pay and fired, no reason given. Unlike the other 3 employees, Shirley got a lawyer. A settlement was reached July 20 in which MERS agreed to pay "a total gross amount equal to three (3) months of pay and the equivalent of two (2) months of Employee's COBRA contribution, which amounts to a total payment of $11,489.88."
Contract attorney Lisa Ward assisted in the negotiations and charged MERS $3312.50 for her services. A list of payments to Ms. Ward was provided by MERS.
In addition to the settlement agreement, MERS gave me a copy of a 10/13/04 letter to CEO Anne Wagner from Shirley's attorney.
*This title is an inside-MERS joke. Anne was always trying some trendy idea to improve MERS employees, and one of those was the book The Four Agreements by Don Miguel Ruiz, a Mexican author of New Age spiritualist and neoshamanistic texts. (Wikipedia) The four agreements are:
Be Impeccable With Your Word.

Don't Take Anything Personally.

Don't Make Assumptions.

Always Do Your Best.
MERS' Bill for Failed FOIA Fight: $12,813.50

MERS spent $12,013.50 in an unsuccessful attempt to deny a Freedom of Information Act request for the termination agreements of 3 former employees.
$6426 was for my attorney fees, $500 was the penalty required by the Act for improperly denying the request, and $5887 was what MERS paid contract attorney Lisa Ward for handling the lawsuit. See FOIA Lawsuit for a complete chronology of events, including a transcript of the September 14 hearing.
A list of payments to Lisa Ward for her work on the FOIA case and on a settlement with fired employee Shirley Roe was provided to me by MERS 12/16/05 in response to a FOIA request.
The Compliant Board

How aware is the MERS board of directors of what goes on at MERS? Are they demanding information and questioning decisions or dozing off during the meetings and dreaming of their golf game? Occasional remarks by CEO Anne Wagner suggest that she'd like to limit their involvement. Speaking at a 5/15/03 staff meeting, she stated that it was important for the Board to "stick to the agenda" at board meetings. Speaking at an Employee Action Committee meeting 5/23/03, she said she could do anything not forbidden by the Board. Other observations:
There have been 5 board meetings in 2005 and one in 2006. As of 2/26/06, minutes for only one of those meetings - the March 2005 meeting - have been posted on MERS' website.

At the March 2005 meeting, the Board denied my appeal of MERS' denial of my FOIA request for employee termination agreements. I had to file a lawsuit to get the agreements.

The MERS website used to list the board members' mailing addresses, email addresses and phone numbers. Now no contact information is provided.

The Board goes on retreats at least once a year and has received "professional development" training from FranklinCovey and probably from Hardy Hasenfuss as well. One purpose of these sessions is to build team loyalty and discourage dissent.

I don't know if they still do it, but for a long time the Board sent Anne flowers each month. At a March 2002 staff meeting, Anne told us it was in appreciation of her performance evaluation.
An official from one MERS municipality has told me of his concern that "MERS may be being administered not so much in accordance with the best interest of its members as it is to the specific economic benefit of its management staff and vendors." One questionable MERS expenditure has been for consulting services provided by Hardy Hasenfuss of New London International Consulting Services (website). In response to a Freedom of Information request, MERS provided me a list, by year, of all payments made to Mr. Hasenfuss in the years 2000-2004. There may be more payments for 2004, because the list was prepared before the end of the year (about 12/9/04). The totals are below. Click here to see the detail as provided by MERS.
| | |
| --- | --- |
| 2000 | 26,601.52 |
| 2001 | 18,540.00 |
| 2002 | 42,342.97 |
| 2003 | 14,950.00 |
| 2004 | |
| 5-year Total: | $125,779.49 |
Anne Wagner calls Hardy her "leadership coach", but he provides services to other staff as well. In the fall of 2002, Anne asked all staff to participate - on a voluntary basis - in a "behavior assessment" or "personality profile" process conducted by Hardy. This consisted of taking 2 short, self-administered online tests, then discussing the results over the phone with Hardy. Here is her memo. And there was this memo from Deb Peake.
Later that fall, Hardy conducted an all-day, in-house staff retreat. He also interviews prospective employees to make sure they will be a good fit at MERS. Hardy is located in New London, New Hampshire, so most of his coaching is by phone.
Before Hardy Hasenfuss, there was FranklinCovey (website). Stephen Covey is the author of the best-selling self-help book "The 7 Habits of Highly Effective People". His company conducts professional development training and sells the Franklin Planner. In response to a Freedom of Information request, MERS provided me a list, by year, of all payments for services and materials provided by the FranklinCovey company in the years 2000-2004. The totals are below. Click here to see the detail as provided by MERS.
| | |
| --- | --- |
| 2000 | 63,213.35 |
| 2001 | 13,874.19 |
| 2002 | 312.51 |
| 2003 | 87.78 |
| 2004 | 7,297.34 |
| 5-year Total: | $84,785.17 |
In October 2000, the entire MERS office - about 30 people at that time - attended a 3-day session conducted by a Franklin-Covey trainer. We were taught to:
1. Be Proactive
2. Begin with the End in Mind
3. Put First Things First
4. Think Win-Win
5. Seek First to Understand, Then to be Understood
6. Synergize
7. Sharpen the Saw
I heard at the time that the training alone cost $1500 a person. Added to that was the lost time from work, the big meeting room at the Sheraton (a few blocks from the office), a nice buffet breakfast and lunch each day, a $30 coupon for dinner for each of 2 nights, a $50 Franklin Planner, and gifts each day (a bag, a desk clock, and a shirt - all with the MERS emblem on them). During the sessions, there was snack basket full of candy and gum, a first aid kit with Tylenol and BandAids (in case we got a paper cut), cookies, fruit, or brownies at break time, all the coffee and pop you could drink, and balloons around the room that had on them "Have a Great Day", "You're Special", "Best Wishes", and the smiley face. We were encouraged to stay at the hotel the first 2 nights at company expense, which seemed strange. I didn't take them up on it, but I heard from those who did that milk and cookies were delivered to their rooms at bedtime.
| | | | |
| --- | --- | --- | --- |
| | 2004 | 2005 | 2006 |
| Anne Wagner, Chief Executive Officer | 184,002 | 178,790 | 184,589 |
| Mike Moquin, Chief General Counsel | 153,464 | 152,064 | 157,014 |
| Tama Allen, Chief Technology Officer | 111,829 | 110,808 | 114,005 |
| Jeb Burns, Chief Investments Officer | 111,266 | 110,808 | #134,900 |
| Kathy House, Chief Client Services Officer | 108,297 | | |
| Luke Huelskamp, Chief Financial Officer | 96,559 | 110,849 | 114,005 |
| Carrie Lombardo, Chief Insurance Officer* | 96,559 | 110,849 | 114,005 |
| William SaintAmour, Chief Administrative Officer* | 43,604 | 97,422 | 108,770 |
| Kathy House, Chief Marketing Officer | | 101,628 | 114,005 |
| Debra Peake, Chief Pension Services Officer | | 88,758 | 105,428 |

*Hired in 2004
# Additional $75,000 budgeted as incentive pay for entire department to use, including CIO
The above salaries were provided by MERS in response to Freedom of Information requests. MERS also gave me the budgeted salaries for these 4 years:
| | | | | |
| --- | --- | --- | --- | --- |
| | 2004 | 2005 | 2006 | 2007 |
| Anne Wagner, Chief Executive Officer | 145,000 | 174,400 | 179,632 | 179,929 |
| Mike Moquin, Chief General Counsel | 140,000 | 152,600 | 157,178 | 157,437 |
| Tama Allen, Chief Technology Officer | 102,000 | 111,180 | 114,515 | 114,705 |
| Jeb Burns, Chief Investments Officer | 95,000 | 111,180 | 136,250 | 108,150 |
| William SaintAmour, Chief Administrative Officer | 95,000 | 97,000 | 104,523 | |
| William SaintAmour, Chief Research Officer | | | | 114,705 |
| Caryn Mateer, Chief Adminstrative Officer | | | | 114,705 |
| Luke Huelskamp, Chief Financial Officer | 92,000 | 111,180 | 114,515 | 114,705 |
| Kathy House, Chief Client Services Officer | 92,000 | | | |
| Kathy House, Chief Marketing Officer | | 111,180 | 114,515 | |
| Lynda (Pittman) Blackshaw, Chief Marketing Officer | | | | 114,705 |
| Debra Peake, Chief Pension Services Officer | | 85,783 | 103,355 | 114,705 |
| Carrie Lombardo, Chief Insurance Officer | | | 114,515 | 114,705 |
At its November 10, 2004 meeting, the MERS Board approved a 10% merit bonus for 2004 for CEO Anne Wagner (see OPEN SESSION on page 5 of the meeting minutes). That would increase the amount budgeted to $159,500. The Board also approved "an additional $5,000 for the purchase of a life insurance policy in recognition of her leadership and improvements that have been made to the system." These might explain why her 2005 earnings were less than her 2004 earnings.
For purposes of comparison, I've listed below the salaries of the 7 highest paid state employees. The figures are from a 4/15/06 story in the Lansing State Journal.
| | |
| --- | --- |
| James Epolito, Michigan Economic Development Corp. Director | 200,000 |
| Jennifer Granholm, Governor | 177,000 |
| Sandy Ring, Michigan Economic Development Corp. Business Development Director | 154,500 |
| Kimberlydawn Wisdom, State Surgeon General | 153,927 |
| Shobhana Joshi, Community Health Department psychiatrist | 153,927 |
| George Pramstaller, Corrections Department doctor | 153,927 |
The following salary figures are from a Lansing State Journal story that appeared in December 2004. That article said that although Michigan is "only the nation's eighth-largest state,...its department directors are among the highest paid in the country." It also said that the Governor gives back 5% of her $177,000 salary.
| | |
| --- | --- |
| Jennifer Granholm, Governor | $177,000 |
| Jay Rising, Treasurer | $174,200 |
| Teresa Takai, Information Technology Director | $146,000 |
| Marianne Udow, FIA Director | $130,050 |
| Mary Lannoye, Budget Director | $135,300 |
| Mike Cox, Attorney General | $124,900 |
| Terri Lynn Land, Secretary of State | $124,900 |
| | |
| State Superintendent of Schools | $168,300 |
| Supreme Court justices | $164,610 |
| Environmental Quality Director | $140,500 |
| Transportation Director | $140,400 |
| State lawmakers | $79,650 |
In response to my lawsuit, MERS has given me copies of the termination agreements made with 3 former employees. Click the name below to view the agreement.
Name

Termination
Date

Position

Payoff Period

5/3/2000

Marketing Representative

5 Months

2/21/2001

Information Systems Director

3 Months

11/26/2001

Finance Director

3 Months
The agreements were sent to my attorney by MERS' contract attorney, Lisa Ward. In her cover letter, she says that "all relevant documents" are enclosed. I had also expected one for Shirley Roe, who was fired without warning or explanation at the end of August, 2004. Last I heard, Shirley had a lawyer and was negotiating with MERS.
To make sure that none of the requested agreements were overlooked, my attorney sent a letter offering to settle the lawsuit if MERS paid my attorney fees ($1456.20) and provided a signed statement from Anne Wagner that there were no other agreements. Lisa Ward replied 6/20/05 saying that although there were no termination agreements for Diane Anderson or Gale Larsen, "the situation with Ms. Roe has not yet been finalized."
So. Is there anything wrong with these terminations? Let's see:
The termination agreements are disingenuous. Marian and Brian's terminations are characterized as resignations while Chris' is called "voluntary separation." The MERS personnel manual defines resignation as "voluntary employment termination initiated by the employee." These terminations were not initiated by the employee and were not voluntary. No two-week notice was given. Other staff who were close to these employees know that they were surprised and upset. If the terminations had been voluntary, no payoffs would have been made. MERS employees who really have resigned in recent years were not offered severance pay.

There is no mention of severance pay in the MERS personnel manual. The chief executive officer has no authority make payments to employees other than as compensation for time worked and for reimbursement of work expenses.

The personnel manual contains guidelines for employee performance evaluation and progressive discipline. There is a proper way to discharge an employee who is not performing satisfactorily, "In situations of conflict", says the manual, "employees will be allowed to use the 'just cause' process" which "is the attempt to maintain civil rights and due process. . ."

MERS is a public agency subject to the Freedom of Information Act. It has no business making "confidential" agreements, especially when they involve expenditure of public funds. MERS' legal staff should have known this.
If these terminations had really been voluntary, there would have been no need for payoffs. Nor would payoffs be required if proper procedure had been followed to establish that the employee had not performed satisfactorily. These employees were bullied into resigning and then paid not to put up a fight about it. It saved the CEO from having to justify her action, and it cost her nothing. It wasn't her money. The employees were paid off with public funds - money contributed by municipalities for payment of their employees' pensions.
And the MERS Board approved - assuming they knew about it. We do know that they unjustly denied me access to the termination agreements.
See FOIA Lawsuit for a complete chronology of events.
Anne Wagner has always claimed to want employees to submit suggestions, but some suggestions are apparently unwelcome, and I don't know if it is because they come from me or because they involve policy or procedure. MERS has always had a suggestion box, and it has been the Employee Action Committee's responsibility to consider the suggestions. On MERS' internal website, the EAC has a page that includes a list of employee suggestions and their disposition. I was on the EAC in 2003, and early that year I submitted 3 suggestions:
1. Provide Online Forms for Customers
2. Apply the Employer Rate to Exception Wages
3. Eliminate the Refund Waiting Period
I thought that making sure that suggestions got a fair hearing would be a proper function of the EAC, but other members preferred to refer them to the appropriate department for consideration, with no follow up. In other words, the EAC's responsibility ended with the referral. All but one EAC member (besides me) held this peculiar opinion, leading me wonder if it wasn't orchestrated by Anne, who met regularly with the EAC chairman and co-chairman.

My suggestion for providing online forms for customers was referred to Information Services, and the informal response was that IS would be providing online forms with ePASS. So far, none are available in the Forms section of the MERS website. In fact, the instruction at the top of the Forms page is "Please complete all forms in black ink." The information from the Membership Application must be provided online in ePASS, but the form still must be completed and sent in.

My suggestion for applying the employer rate to exception wages never got a formal response. It was referred to the Finance Department. On 7/30/03, I sent a memo to Anne, Luke Huelskamp and Tama Allen asking that the issue be considered soon, because it would impact ePASS. The same day, Anne sent me this email:
Steve,
Why was this proposal sent to the EAC?
Anne
My reply:
It was submitted as a "suggestion".
There was nothing further except Luke came to me one day and said he didn't think we wanted to do that – no reason given.

My suggestion on eliminating the refund waiting period was referred to the Legal Department. There was some discussion of the issue via email, but I never got a face-to-face hearing and got no formal response.
I made another suggestion when I applied for my pension and discovered that MERS didn't trust me to provide the account and routing numbers for direct deposit of my check. That suggestion was rejected informally by Finance Director Luke Huelskamp. He said that to minimize disruption in setting up the EFT transfer and/or making corrections, the EFT authorization form should not be changed. He said that there is more than one bank that has one account number for individuals and different digits at the end of the number, say, one for savings, another for checking, etc. The individual doesn't always know that or even question it. By speaking with a bank teller and the bank signing the form, the check should go to the correct account. He felt it was only a one-time thing for individuals to have to deal with.
So. The IRS trusts taxpayers to provide their account and routing numbers, but MERS does not. MERS' convenience overrides the customer's.
I created the MERS Intranet, MERS' internal website, long before we moved to the new building, and I was responsible for maintaining it until I retired in May 2004. On many occasions, I also served as the staff photographer. The Open House for MERS' new building was June 11, 2002 and Ron Beaton told me Anne Wagner wanted me to take pictures. A professional photographer had been hired, but he was going to be there only from 3:00-6:00, and the Open House was from 3:00-8:00. Also, Anne wanted some "casual" pictures. So I took about 30 pictures. When I had them developed, I also got them put on a CD, and I gave the CD to Shelly McMahon so she could add them to the Photo Gallery page on the Intranet.
On June 24, Ron came to me and said that from now on, Anne did not want anything put on the Intranet without her approval. He said this came up because she didn't want the pictures of Dorothy Stevens and Gordon Linsday, the former MERS executive directors, on the Intranet. Ron gave no further explanation. He said he had already had them removed.
We can only speculate about Anne's motive. Did she want to be Executive Director for Life, and felt that the memory of past directors would detract from her magnificence? Keep in mind that the Intranet is seen only by MERS employees (and whatever consultants have access to our network). Maybe she didn't realize this.
Here is the picture of Dorothy and here is Gordon, along with MERS actuary Alan Sonnanstine and board member Dennis Murphy.

I retired from MERS on May 1, 2004, and then came back to work on contract. I had been responsible for wage and service reporting since 1998, and they needed me to continue fixing report errors, providing customer support, and processing corrected reports until all municipalities were converted to ePASS, The 600 municipalities were divided into 12 groups. One group was to be converted each month starting in October, so the last of them would have been converted in September 2005. As it turned out, my last day of work was Thursday, August 19, 2003, but I didn't know it until Saturday, the 21st, when UPS delivered a letter to my home saying my contract had been terminated - no reason given.
I probably wore out my welcome. Contractors shouldn't use the word "stupid" when questioning Management decisions. And while testing the new system, I had reported as "bugs" problems with ePASS that I knew were there by design – problems I'd pointed out a year earlier, before Compuware was kicked off the project. Compuware was the first contractor to take on the project, and they bungled it. GRS (Gabriel, Roeder and Smith), the same firm that provides actuarial services to MERS, took over the project and has done an outstanding job. But they had to work with the original MERS design, and I thought it had some serious problems. Here is my original summer 2003 list, less a few that I know were corrected. Others may have been fixed in the final ePASS version.
Preparing Reports Out of Sequence. Users are permitted to prepare reports out of sequence, although they must submit reports in sequence. I don't think there is a need to prepare reports out of sequence, or to prepare more than one report at a time. Users were never permitted to prepare reports out of sequence in the old system, and no one complained. Allowing them to prepare reports out of sequence could cause problems. A user preparing a report in November for October might select November by mistake, enter all his data, then find out when he tries to submit that October is the next to be processed. He will then have to select October and re-enter all the data.

Bargaining Unit on Membership Application. When completing the Membership Application for a rehired member, the user will not be permitted to enter the employee's current bargaining unit. The previous BU will be displayed, but they will not be permitted to change it. They have to wait and change it on the payroll report. This message will be displayed:

Error – Bargaining Unit Transfer must be done on the edit screen

It will be hard for users to understand why they cannot enter the correct bargaining unit. Also, they might forget to change the BU when they do the payroll report.

No Bargaining Unit in Flat File. Users will be able to upload a flat file, but there is no field for bargaining unit in the flat file. This means that if there are any BU changes, the users will have to do them manually after the file is loaded. This is an extra step, and it could easily be forgotten. Users who currently use a flat file are used to maintaining the BU number for each employee in their payroll system, and not having to make additional changes after uploading the file.

BU Change Confirmation. This is not a big problem, and it has been in the design since the beginning. I am the only one who doesn't like it. When entering payroll data, the user cannot simply change (select) an employee's bargaining unit. He must first check a "xfer?" checkbox. The intent is to force the user to think before he changes the BU, which we hope will keep the user from making unintentional BU changes. I do not think users make frivolous BU changes, and requiring him to check the "xfer?" box is confusing and annoying.

No Excluded Wages. The excluded wages field has been eliminated. In the old system, users reported gross wages and excluded wages, and we calculated the net as the difference. In the new system, the users will report the net wages only. Having an excluded wage field was not for the benefit of MERS. For us, it only adds complexity and takes up file space. The excluded wages field was added to the old system in about 1993, and it was added for the benefit of the users. The users wanted to see the same gross wage total on the Member Statement that they saw on the W-2 form. With ePASS, this will no longer be possible. It is unknown whether users still care about this. As far as I know, no attempt was made to find out.

Wage Discrepancy Code. The wage discrepancy code is a new feature in ePASS, and while it has the potential for providing useful information, the current design lacks sophistication and will cause problems. As currently designed, the codes are as follows:

DISB = Disability
LOA = Leave of absence
NHIR = Newly hired
OTH = Other
PROM = Got a raise or promotion
RTRO = Received retroactive pay
WCMP = Receiving worker's compensation
MILT = On active military duty

The first problem is that the same explanations are accepted for both unusually high wages and unusually low wages. PROM is acceptable for low wages; LOA is acceptable for high wages. ePASS will allow bad information to be collected.

Even if the explanation is appropriate for low wages, it still might be invalid. ePASS could display a warning message to get confirmation. For example, if the reason is DISB, wages are zero, and service credit is "full", the warning could say "To earn service credit, employee must work 10 days or disability payments must be reported." Or if reason is LOA, NHIR or OTH, wages are low, and service credit is "full", the warning could say "To earn service credit, employee must work 10 days."

The second problem is that explanations for unusually low wages will be required even if the user has indicated that the employee received no service credit. If the employee is not receiving service credit, we don't care if the wages are unusually low. The only reason we ever question low wages is if service credit is being granted. We want to make sure the employee earned it. Nevertheless, a code will be required even when no service credit is indicated, and none of the current codes are appropriate. In this case, ePASS will require bad information to be collected.

But if we are going to require an explanation when service credit is "none", we should use warnings to question some entries. When the reason is WCMP or MILT and service credit is "none", the warning should say "Employee should receive full service credit when on worker's comp or active military duty."

ePASS will not require a wage discrepancy code when a termination date is reported. This is good. A termination date indicates that the employee did not work the entire month (explaining low wages) and that payoffs of accumulated leave may have been received (explaining high wages).

No Flat File Upload for Corrected Report. The corrected report process in ePASS does not allow the user to upload a flat file. All corrections to past reports must be done as manual corrections to the displayed original. This is fine when there are only a few corrections, but not when it involves corrections to several hundred employees, as might be required when the user finds that they forgot to include a payroll. It might not happen often, but when it does and the user is told they will have to enter all the corrections manually even though they have a corrected file in the proper format, they are not going to be pleased.
In a separate email exchange in July 2003, I expressed my misgivings about requiring the municipality to provide information from the Membership Application before they were allowed to include an employee on a payroll report:
ePASS Project Team:

Although I agree that it would be a great help to us here at MERS if RU's were forced to provide complete membership info on new members before they are allowed to submit a payroll report, I think it would be too much of a hardship for the RU. Isn't there some other way we could handle it? We could encourage them to provide the info when they add a new member, but I don't think we should require them to. Instead, could we not flash a warning something like this when a report is successfully submitted:

YOU HAVE MEMBERS FOR WHOM YOU HAVE NOT PROVIDED MEMBERSHIP INFORMATION TO MERS. PLEASE...

It would go on to tell them where to go to enter the info.

The person who prepares the payroll report may not be the person who collects the Membership Applications, so the information may not be readily available. Also, there may be instances in which it is impossible for the RU to get a Membership Application within the next few days. They may not be able to reach the employee. He could be on vacation, in jail, in a coma, dead, or at MERS' Annual Meeting. Are we prepared to fine a RU for being late with their report when the only reason they were late was because they could not get membership info for a new employee?

I am not against allowing RU's to enter member info online, and I am not against strongly encouraging them to get it done. But I don't think we should keep them from submitting their payroll report because they don't have the info for one new member. Membership info consist of the following:

Hire date

Birthdate

Address

Beneficiary designation

Steve H.
Here is Deb Peake's response:
We know there will be an adjustment for the municipalities to remember this information must be submitted with their payroll reports. If this weren't required information to run the annual valuations and member statements at the end of the year, then we would agree with you. We very strongly want this requirement in our department because our staff spends a considerable amount of time trying to track it down because the employers don't follow through. If we make sure the employers/payroll departments know ahead of time that this is a new requirement of this program, hopefully they will be ready when they start reporting on it.
Here is Luke Huelskamp's response:
Steve in other Pension payroll systems I have worked with they require you to have the information before you submit your monthly payroll. ICMA, Manulife, and others won't let you submit unless that person is set up. I know it may be a bit of a bother for some of the municipalities but by and large that information should be readily available. Thanks, Luke
Sometime in August 2002, Anne Wagner asked me if I would be willing to serve on a committee to plan an employee retreat to be held in October and conducted by Hardy Hassenfus. The committee's first meeting was on September 11. Members were Anne, Mike Moquin, Kathy House, Jennifer Willis and I. Hardy was on speakerphone. At one point in our discussion, Anne brought up the "Common Viruses" survey that was done a few weeks earlier. She said only half of all employees returned the form, and half of those picked "Kill the messenger" as the top virus at MERS. She said she couldn't understand why employees felt that way. I suggested that we ask them, and Anne assigned Jennifer and I the task. We would talk to staff and present our findings to the Committee at our next meeting, in 2 weeks.

Jennifer and I came up with a plan. We would meet with staff in groups of 10-12 without supervisors and encourage them to talk about obstacles to communication at MERS. We would take notes and report back to the committee. We presented the plan to Anne and she approved.

The sessions were held Monday and Tuesday, September 23 and 24, and by the end of the next day I had a report drafted. I sent it as an e-mail attachment to all participants. Over the next day or so, I re-sent the report to the employees with the changes they suggested. I also collected and saved all the employees' emailed comments.

We gave the final report to the Retreat Committee members and at the next meeting, Jennifer and I were commended for our efforts. No one seemed to be upset, although the very mission of our committee was criticized in the report (item 12 on page 4). Anne did talk quite a lot about the firings, insisting that "progressive discipline" was used, that no information at all could be shared with staff, and that escorting the victims out of the building was necessary to prevent sabotage. When I mentioned that the report seemed to say that the problem at MERS was management, Mike disagreed, pointing out the 1 or 2 (of 15) items that did not apply directly to management.

I think I can safely say that nothing much has changed at MERS as a result of the report. In fact, the supervisor who was the subject of most of the complaints of employee abuse was promoted.
The policy on payroll reporting deadlines and late penalties that were distributed in March 1999 always seemed a bit confusing to me. In a March 8, 2000 memo to Marian Frane (the Finance Director), I proposed some changes. She did not respond.
On July 12, 2001 Marian sent me this e-mail:
I have received several phone calls from municipalities that have spoken with you about the payroll reporting timelines. They are surprised when they receive a late payment letter from me because you have told them they are meeting the reporting deadline. Please mention to them that while they may satisfy the reporting grace period (10 days after the 10th of the month), the payment deadline is the 20th with a 15 day grace, regardless of when we receive the report.

Also, the municipalities are telling me you are telling them that the reporting deadline is the 20th. Please make it clear to them that the deadline is the 10th.
Apparently, when the municipality sent the report on the 20th, it was more than 15 days by the time they got the invoice and returned the payment.
Ordinarily I have no reason to discuss deadlines when I talk to customers, but a couple days before the 20th each month, I call everyone who has not yet sent their report. That was when I was telling them the deadline was the 20th, and that they could be fined $250 if they are late.
Later on July 12, Marian later asked if we were OK on this matter. I told her I had looked up "deadline" in the dictionary and found that its source was the prisons. A line was drawn around the prison yard, and if a prisoner crossed it, he was shot. "Deadline" implied consequences, and there were no consequences for being later than the 10th. But I agreed to follow her directive.
Later, I sent her this e-mail, with copies to Ron Beaton and Tama Allen (Ron and Tama have to pre-approve any of my correspondence with customers):
There has been some concern about what I am telling municipalities about deadlines for payroll reports. We can clarify the matter for the 150 municipalities who are sending their reports via e-mail by including a statement of the policy in the standard reply. With your approval, I can begin replying to e-mailed reports as in the attached document. Also, we could put the same information in a form letter and mail it to all the municipalities who submit reports on diskettes or transmit them to our Bulletin Board. Or maybe just to those whose reports are arriving after the 10th.
Marian responded to my e-mail as follows:
NO! The municipalities have received copies of our procedure for late reporting and payments. We need to stop giving them incorrect information over the phone.
I did get permission soon after that to send this e-mail message to municipalities who were late with their report:
Just a reminder that your July payroll report was due August 10 and the grace period ends Monday, August 20.

If you need help or have questions, e-mail me or call me at 800-767-6377.
On August 9, Marian sent me this e-mail:
I just received a phone call from the Mid-Michigan Dist Health Dept (5901) responding to the late payment letter I sent to her. She said she had spoken with you about paying her June invoice late because she had to submit a corrected report. She said you told her that she would not be charged a late payment penalty because she submitted a corrected report. That is not so!
I replied:
She misunderstood. I told her that she would not be penalized for being late with her corrected report. I did not tell her that she would not be penalized for being late with the payment.
The issue came up again in an otherwise favorable annual performance review written by supervisor Ron Beaton in October 2001. This statement was included in the review:
One area of concern has been information Steve has been providing to municipalities. Marian Frane has copied me in two circumstances that indicate information that does not conform to current policy has been provided to municipalities. Steve needs to keep comments in conformance with MERS policy.
Marian "resigned" on November 26 and the new Wage and Service Reporting Instructions manual was distributed at the end of December with the "current policy" on deadlines and penalties.
Sometime near the end of April 2001, I got a call from Alton Cousino of the Hillsdale Housing Commission. He had a complaint about the MERS Wage and Service Program, which he used to prepare the monthly wage and service report. Often when closing out of the program, he got a message saying the program had performed an "illegal operation" and would be shut down. I had always told customers to ignore it, that it did no harm. Al said he was just an amateur programmer, but he believed that it did do harm. Part of the program remained in memory until the PC is rebooted. We chatted some more about the program and after the call ended, I e-mailed him a document written about a year earlier by IBM consultant Dave Ceccoli. It was an analysis of the issues involved in converting the MERS Wage and Service Program to a later version of Microsoft Access. I thought Al, as a programmer, would be interested in what Dave had to say, and I wanted to hear what Al thought about Dave's analysis. Dave was the author of the original MERS Wage and Service Program. A day or so later, Al replied by e-mail. In his memo, he incorporated Dave's analysis and responded to it point by point.
The reason Dave had looked into converting the program is that we thought it was the solution to a problem that several municipalities had been having. Some municipalities who upgraded to later versions of Windows or Microsoft Office could no longer run the MERS Wage and Service program. Dickinson County Library was the first to report the problem, in August 1999, and by the time a solution was found, the list grew to about 24 municipalities. They either had to continue to use their old PCs or send the report on paper. Former IS directors Brian Smith and Chris Neff tried to solve the problem, as did programmer Peter Kong and I. When we could come up with no other answer, we assumed that the problem was that a program created in Access 2.0 would not run with later versions of either Windows or Office. So we bought the software for Access 2000 and attempted to convert the program. We got nowhere. Finally, sometime in 2000, we had Dave Ceccoli take a look at it, and the analysis I gave to Al Cousino was his report.
In the end, it turned out that there was another solution. On November 17, 2000, Therese Humphrey of Huron County Behavioral Health installed the program for the first time and ran into trouble. The symptoms she reported were the same as those experienced by the other 24 municipalities. I explained the situation, but encouraged her to re-install the program before we gave up. Later the same day she called back to say that she had gotten it to work. In the detail of the error message she was getting, she saw a reference to a file. In a book she happened to have, she looked up the file name and found that it had something to do with "graphics", and this led her to the solution: She slowed the "hardware acceleration" in Windows. In the next few days, I called all the other municipalities who were having the problem. Adjusting the hardware acceleration fixed the problem for all of them.
On June 4, 2001 I sent Tama Allen, the new IS director hired in April, a memo with Al's memo attached.
On June 6, when I went to my weekly conference with supervisor Ron Beaton, I was surprised to find Tama there also. Ron said that they and Anne were very disappointed that I had shared Dave's notes with Mr. Cousino. I was being put on 30 days notice. At the end of 30 days, my responsibility for dealing with the monthly payroll reports submitted by municipalities could be taken away, and I would be writing procedures only. I got angry back and said that they were making an issue out of nothing. They might just as easily have commended me for getting some free advice. I said there appeared to be a pattern of harassment - first, the completely inaccurate performance review last January (see Performance Review), now this.
Ron later sent a memo to document our discussion. In our meeting, Ron had made clear that the "disciplinary action" referred to on page 2 of the memo was dismissal.
I was ready to fight back. I started a letter to the Board. I contacted an attorney and discussed a lawsuit. In the end, I took no action. I had Tama and Ron review e-mails before I sent them to municipalities. Jason Smith of Information Services requested documentation - which was already written - of the MERS Wage and Service program and my procedures for doing report corrections, and he began observing and taking notes on what I did to deal with rejected payroll reports. That went on for a couple of weeks. I did my best to stay out of trouble and no further "disciplinary action" was ever taken.
In his memo, one of the reasons Ron gave for the seriousness of my indiscretion was as follows:
MERS has modified our direction concerning update of the wage and service reporting process and as a result of receiving old information, [Mr. Cousino] has assumed facts that are no longer relevant.
This sensitivity to any questioning of our "direction" for the wage and service reporting process was seen as early as October 2000 in a memo to me from Chris Neff. Note that he says that Anne had decided that there was to be no further development, bug fixes or enhancements to the Wage and Service Program. This was in October 2000, and implementation of the new web-based system - ePASS - did not begin until October 2004.
The "current problem" he refers to in his third paragraph is the one finally solved by customer Therese Humphrey (see third paragraph above).
Chris "resigned" on February 22, 2001, and on March 6, I sent Anne a memo defending the MERS Wage and Service program. There was no response.
On January 19, 2001, I got a performance review from Ron Beaton, who had been my supervisor for only a few months. Before I moved to Ron's Administrative Services Division, I worked for Chris Neff in Information Services. I think that Chris wanted me out of his department. One reason probably was that he needed someone with a stronger technical background, but I also think he didn't like me. I don't know why. I didn't really fit in anywhere else, either, so Ron got stuck with me.
I was very upset by the review and quickly wrote a response. At that time, Ron was the personnel director for MERS. He, of all people, should have known how unprofessional his review was. He told me when he gave it to me that he didn't really know much about what I did, so he had based it on what he was told by Chris Neff, Kathy House, and Anne Wagner.
One accusation in the review was particularly bizarre - the one in the supplement about "Changes to PeopleSoft". Besides the fact that I had heard nothing of it before the review, the idea that I could change codes in PeopleSoft was ludicrous. I had no access to the inner workings of the PeopleSoft system. I could enter codes, but only from a list provided in a drop-down box. If any invalid codes were on that list, it would be the fault of our Information Systems department. Although I never did get an explanation, I believe the code in question was one I had entered to identify a correction to an error I had made doing a refund, and I did so on the advice of a staff member who normally did refunds.
The "Additional Comment" in the supplement probably were as a result of comments I made in July 2000 on the brand new MERS website. I printed off each web page, wrote my comments on them, and gave them to Ron with a note asking that he pass them on to Anne.
The same day I responded to the performance review, I got a memo from Ron suggesting that we re-do the whole review process in 60 days. That review was a vast improvement.
The next "annual review" occurred in October 2001. The "win-win agreement" referred to in the review was something Anne asked all of us to write about a month before the Covey training. Ron's comment under "Monthly Payroll Reporting" about providing information to municipalities comes from my dispute with Marian about reporting deadlines (see Reporting Deadlines). But I do not know what Ron is referring to under "Attitude/Office Presence" when he speaks of my "negative attitude" and "negative verbal comments". I suppose I should have asked. But the review was favorable enough to get me a $3500 merit bonus.
At an Administrative Service staff meeting in April, 2003, Lynda Pittman, who was in charge of Marketing, talked at length about the complaints she was getting from municipalities about calls to Member & Retiree Services. They'd been telling her that they were not allowed to talk to the staff person they asked for, and the staff they were directed to instead seldom were able to answer their questions. She said they'd been calling her in frustration.
I had heard other staff grumble about the "Call Center", so I took it upon myself to write up my perception of the problem. I then sent an email to one of the two Call Center staff members, attaching my write-up. I asked this person to read it and let me know if I was getting my facts straight. Shortly after that, Ron Beaton - my supervisor and the head of Administrative Service (at that time) - asked me to a meeting in the Board Room. Waiting for us there were executive director Anne Wagner, Member & Retiree Services director Kathy House, Kathy's deputy Deb Peake, and Lynda Pittman. Apparently the Call Center staff person I'd emailed took my little essay directly to her supervisor, Kathy House.
Anne said that the Call Center concept came out of a visit she and Kathy had made to CalPERS, the California Public Employees' Retirement System. It worked for CalPERS, so they thought it would work at MERS. (As of June 2004, CalPERS had 1,002,067 active and inactive members and 416,783 retirees. MERS has 37,000 active members, 4,000 deferred vested (inactive) members, and 8,000 retirees.)
Anne questioned my statement that the "Call Center seems to provide the worse possible service to customers" and I acknowledged the exaggeration.
Lynda Pittman spoke up to say that it was wrong for me to use her name in my essay without her permission. I did not defend myself, but I did not agree. She is a supervisor and she made the statements in a staff meeting. She had no right to think her statements would not be repeated. It was just an excuse to beat me up, which she was happy to do. I can't help but like Lynda, but there is nothing she would not do to please Management.
Deb Peake asked me who among the other staff had talked to me about problems with the Call Center. I declined to name anyone. She persisted; I refused.
I reminded those the meeting that it was MERS policy to encourage staff to question Management decisions. My essay was a step in the process of researching the Call Center situation.
I was not disciplined for criticizing the Call Center, but I did not pursue it. And to my knowledge, no one else has, either.
In her 11/5/04 "MERS Response to Unsolicited Email" message to municipalities (see MERS Threatens Legal Action), IS director Tama Allen accused me of being a "spammer" and advised municipalities to ask me to remove them from my email list. As of 3/8/05, 25 (of about 500) have done so. This message from Osceola County, was signed simply "HR", and a copy was sent to Tiffany DuBois at MERS:
I agree that MERS had internal problems, but I believe that you were the biggest one. Please remove this address from your mailing list. Thank you, HR, Osceola County
And there was this one from Saginaw 911. A copy was addressed to MERS@mersofmich.com:
I have not checked out your website nor do I intend to. It's pretty presumptuous of you to think I, or anyone for that matter, really care about the problems you had with MERS. I make that statement only on the assumption that you are a disgruntled former employee. Employees who leave on good terms don't create websites such as yours.

I have personally been enrolled in MERS since 1980 with plans to possibly retire next year....short of you telling me they are embezzling my money, there's no reason for me to change retirement plans.

Please take me off your mailing list.

Vickie Stuart
Saginaw County 9-1-1
Here is some of the other email feedback I've received, re-printed here with permission of the sender:
Your alternative website was very user friendly and I liked it. Thanks for sharing it with me. I'm sorry you didn't have good luck with mers, you were always helpful when I talked to you. Have a good day. [11/4/04]

Hi Steve,
Missed you too and wondered what transpired. Thanks for your view/side. [11/5/04]

I think it's great to see an employee who cares enough about the organization he worked for to try and reform it after he retires. When you don't have to worry about getting fired you can really work for a lot of reforms. Good luck to you. [11/8/04]

Hey,
I didn't know that you retired. You must have really upset some people with your info. I received an email Friday afternoon telling me how to remove myself from your mailing list. I checked some of your info and found it to be very interesting reading. Do you think I should share with some of my members? Hope you enjoy retirement. [11/8/04]

It's nice the know that the wheels of bureaucracy churn so pleasantly at other agencies, too! I must have sent them right over the wall when I informed Mr. Huelskamp that our township attorney found absolutely nothing in our agreement with MERS authorizing a penalty for refusing to submit via e-pay. Strangely enough, we have never received that penalty either and we continue to submit a paper check. Sorry you had a rough time of it. You were always a great help to me with everything that I needed. [11/8/04]

HI STEVE!!
I hope you are doing well!! I am in disbelief they did that to you!! Please keep in touch and I will be checking out your site again!!
Thanks! [12/7/04]

I was shocked by the Hardy Hasenfuss material. In my estimation paying in excess of $125,000 to Mr. Hasenfuss for management guidance is probably analogous to sending money to a TV real estate guru in expectation that the advice he can provide will guide the purchaser to great personal wealth. Few informed people believe the latter, but it is amazing how many bureaucrats will buy into some version of the former.

In this regard, I have sat through several flim flam "temporarily popular" management program presentations (e.g. MBO = Management By Objective, GM = Grid Management, TQM = Total Quality Management, etc.) All of these "new" management concepts, each in its turn, were presented as "The Key" to personal and program success. All of those concepts are now pretty much forgotten. None of them ever came close to meeting, let alone exceeding, the management benefits resulting from simple concepts like sound program policies and optimal operating procedures. I would be most surprised to learn that the experience provided by Mr. Hasenfuss for MERS staff has done better. [12/13/04]

Steve,
you were always helpful to us when you worked at MERS... sorry things did not work out. ...thought you were just griping until the part where Anne wouldn't put Dorothy Stevens picture on the Intranet...
I remember Dorothy and Barbara Jolls and another lady with an accent that I can't quite recall her name..... "...Hulander?"
There are no 'old elephants' left to guide the herd. It's a shame ... just like our legislature with its term limits.
Good luck. We'll keep our eyes and ears open. [3/14/05]

Steve--
What gives? We never had a problem with you--IN FACT--just the opposite. You were more than helpful and willing to assist someone not sure of herself. I'll never forget the 'comfort' I felt when we had to report via the Wage Report and not paper!! What is happening @ MERS--I'm getting out the end of May but I'm still concerned for others. Keep us informed and KEEP DIGGING!!!! [3/14/05]
letter delivered 11/30/04, Mike Moquin, MERS' Chief General Counsel, threatened "appropriate legal action" if, within 20 days, I did not "cease and desist from any further contract violations [and] contact all clients that received [my] email and retract all negative statements concerning MERS." He said that this website and the emails I've sent to MERS customers violated 2 contracts I'd signed while working for MERS. One dealt with standards of professional and ethical conduct, the other with Internet usage.

I don't believe either of the contracts apply here, since I am no longer a MERS employee. Further, it is a stretch to claim that any part of either contract has been violated by my website or the fact that I sent emails to MERS customers. Email addresses of public agencies are public property and those agencies cannot prohibit the public from using them for legitimate reasons. Nevertheless, I have removed from my email list those that have specifically requested that I stop emailing them (see Feedback).

I have sent 2 emails so far. On 11/4/04, to announce this website, I emailed this message to the payroll contact at about 500 of the 600 MERS municipalities:
Hello again! I miss talking to you!

It is probably no surprise that MERS (Municipal Employees Retirement System) has internal problems just like most organizations. I talk about some of my experiences on a new, alternative MERS website: www.mersdirt.com. Check it out and let me know what you think.

Steve Harry
On 11/5/04, Tama Allen, the IS Director at MERS, sent this email to the municipalities:
MERS RESPONSE TO UNSOLICITED EMAIL
On November 4, MERS became aware that a former employee was sending out personal spam email to MERS municipalities and courts. Steve Harry (who became a MERS retiree in May, 2004) had been responsible for working with payroll officials on reporting issues. After his retirement, Mr. Harry performed contractual services for MERS for several months, until his services were no longer needed and the contract terminated. It now appears his new occupation is to send unsolicited spam on his "perceptions" of some MERS events to those persons with whom he had any contact with while at MERS. He has no access to internal data, but is contacting municipalities from public email addresses. His actions are not authorized by MERS, and his spamming conduct is inconsistent with any notions of how MERS conducts business.
You can trust MERS as your "public retirement fund" to operate in an "open" and "transparent" manner. As a public employer, MERS has no more immunity than any other municipality against complaints from disgruntled former employees or citizens. Nonetheless, MERS regrets that Mr. Harry has chosen to abuse the trust that you placed in him as a MERS employee, for his own personal reasons. Be assured that MERS will undertake those legal actions available and necessary to protect our clients from interference and annoyance. In the meantime, you can request Mr. Harry to remove you from his unsolicited email list, and you can file an email complaint with his ISP provider: domain.tech@yahoo-inc.com. Should you have any questions, please contact Deb Peake (dpeake@mersofmich.com) or Cathy Watkins (cwatkins@mersofmich.com) at MERS.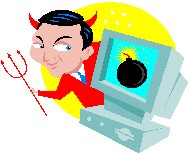 On 11/18/04, I sent another email to the 500 municipalities:
Hello again!

The www.mersdirt.com website has been down since 11/12/04 due to technical difficulties. It is back up today. See the new "Call Center" story.

Steve Harry
On 12/3/04, I sent a letter to Mike Moquin with the following offer:
In your letter of November 29, you said the mersdirt.com website contains inaccurate and misleading information. If so, it was unintentional. If you will point out the parts that are misleading and/or inaccurate and explain why you consider them so, I will be happy to correct them.
I've received no reply to my 12/3/04 letter.
On 12/14/04, my attorney, Jim Starr, sent a letter to Mike Moquin. He asked for copies of the 2 contracts and said this:
I would also appreciate knowing what you considered inaccurate and misleading about the information which he has used on his website and also any statutory or case law that you may have defending your claim that he has somehow violated an obligation to MERS. Hopefully this matter can be handled without litigation.
Mr. Starr later phoned Mike. Mike told him he had given his letter to private attorney Lisa Ward, who is handling the matter for MERS. (Apparently Mike and MERS' other staff attorney were too busy.) Mr. Starr called Ms. Ward and asked her to explain how the contracts were violated. She wouldn't (or couldn't) say. She replied formally in a 12/29/04 letter in which she was no more forthcoming than in the phone conversation.
So far, no legal action has been taken by MERS. I, on the other hand, have sued MERS for release of termination agreements signed by some former employees.