Why is this woman laughing?
Originally posted July 19, 2013; updated August 15, 2013
The Lansing State Journal, Mlive.com and the City Pulse all reported today that former Lansing police chief Teresa Szymanski has landed a job as the Lansing School District's chief operations officer. She retired from the Lansing police force on April 19, 2013 at age 50, with 26 years of service.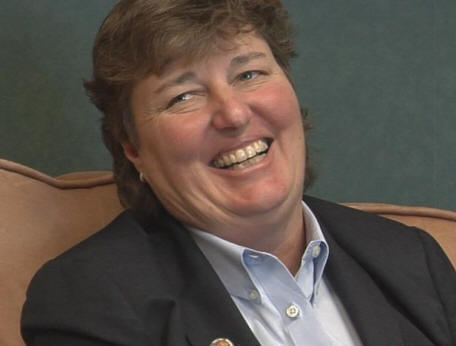 Her salary on her new job was not included in those July 19 reports, but the school district has told me in response to a FOIA request that it is $120,000. Her annual pension from Lansing's Police and Fire Retirement System is about $90,000. That is what her predecessor Mark Alley got when he retired in March 2010.
We don't know her actual pension amount because a state law was passed in December forbidding employers of public employees from releasing their pension details.
Lansing Police and Fire pensions are calculated by multiplying final average compensation (FAC) times 25 years times 3.2%.
Lansing police and firefighters can retire at any age after 25 years of service, and many retire before age 50. We don't often hear what these young retirees do after they leave, but we do know about a few of them:
In the upcoming city elections, we should ask candidates to consider changing the retirement system so that police and firefighters are paid to work for Lansing rather than for someone else.