Who killed Deputy Grant Whitaker?

Originally posted January 13, 2015; updated September 29, 2016
On the left above is Ingham County Sheriff Deputy Grant Whitaker, age 25. He died when he lost control of his car and crashed into a tree. He had been travelling at 117 mph on a 2-lane blacktop in pursuit of an (at the time) unidentified speeder at 2:10 a.m. on a Sunday morning (December 7, 2014). His patrol car "disintegrated." (Lansing State Journal, 12/23/2014)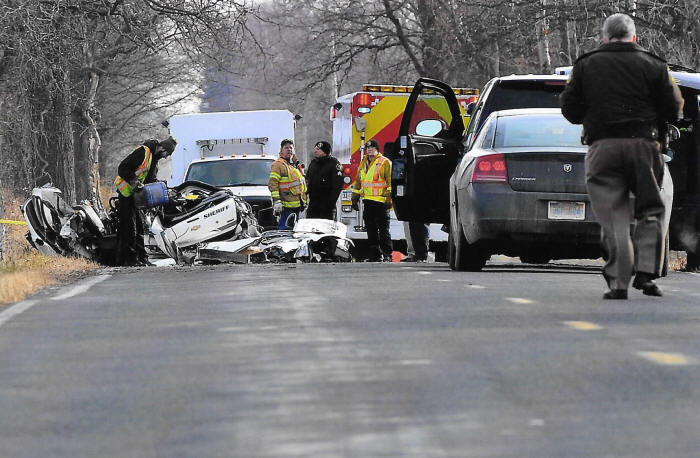 Photo: Robert Killips | Lansing State Journal
(Note: Kevin Grasha's 12/23/2014 story in the Lansing State Journal said Whitaker was travelling between 110 and 120 mph. I emailed Kevin asking how that was known. He replied "A state police crash reconstructionist used evidence from the scene (tire marks, etc.) as well as the car's data recorder, which showed Whitaker was going 117 mph about 2 seconds before the crash.")
At the top on the right is the driver of the car being pursued. He is John Coryell Kelsey II, age 34, a convicted felon whose past crimes were victimless: driving with a suspended/revoked license, fleeing police, driving while intoxicated, delivery/manufacture of marijuana. He has been charged with driving with a suspended or revoked license causing death and first-degree fleeing police. Each is punishable by up to 15 years in prison. He also is charged as a habitual offender, which could increase the amount of prison time he serves, if convicted. (LSJ, 12/15/2014)
The fact that Kelsey was driving with a suspended or revoked license did not cause the death of Deputy Grant Whitaker. Whitaker's own recklessness caused his death. He was speeding at 117 mph on a 2-lane blacktop at 2:10 in the morning. He was possibly encouraged by his superiors: "The last thing we want to do is put the public at risk," [Sheriff's Office Captain Eric] Trojanowicz said. "If this was a different time of the day, like at 5 p.m. when people are coming home from work, I can say rest assured we wouldn't have pursued (the SUV)." (mlive.com, 12/8/2014)
While Kelsey is facing at least 15 years in prison, Whitaker got a hero's funeral. First was the "watch." For five days, in six-hour shifts, two of his colleagues stood guard over his body "Because when a police officer dies in the line of duty, he must never be alone." (LSJ, 12/12/14) The evening before the funeral, colleagues and officers from several different police agencies packed the lawn around the Police Memorial in front of the Sheriff's office in Mason for a candlelight vigil. Friday morning, the day of the funeral, there was a procession of police vehicles from the Ingham County Sheriff's Office in Mason to St. Mary Catholic Church in Chelsea.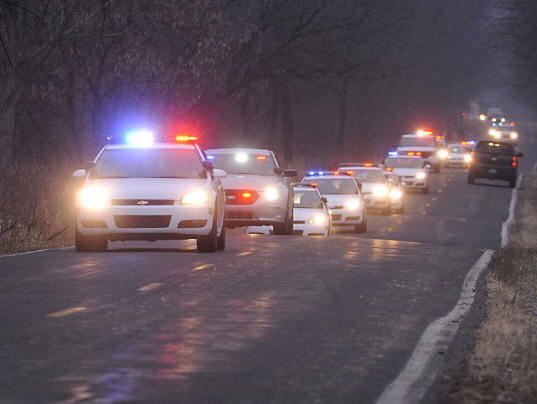 (Photo: Rod Sanford/Lansing State Journal)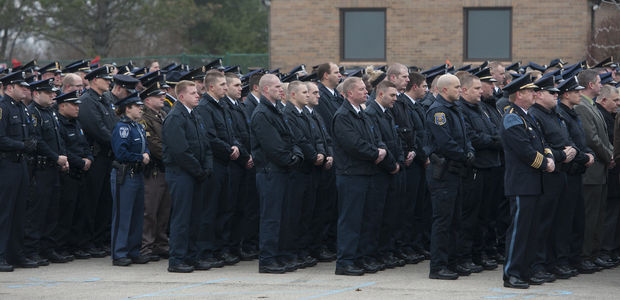 Police officers from around the state gather outside St. Mary Catholic Church in Chelsea. (J. Scott Park, MLive.com)
After the funeral, a line of police vehicles 300 deep from as far away as Sleeping Bear Dunes escorted Whitaker from Chelsea to Stockbridge, Whitaker's home town, with lights flashing. A riderless horse awaited his return. (LSJ, 12/12/14) Police helicopters circled the cemetery and a flag suspended from two fire department ladder trucks waved above M-52. (mlive.com, 12/13/14) Bagpipes played "Amazing Grace." (LSJ, 12/12/14)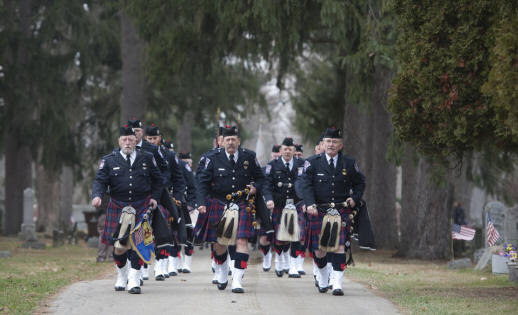 (J. Scott Park | MLive.com)
A dispatcher made the final call: "Badge 5497. Center to Badge 5497, Deputy Grant Whitaker. This is the last call for Grant William Whitaker. End of watch, Dec. 7, 2014. Gone but you will never be forgotten. Rest in peace, my friend. We have the watch from here. Go you en route to your new duty assignment." (mlive.com)
See a professionally-done, 4-minute video of the funeral complete with Josh Groban singing "You Lift Me Up" in the soundtrack.
Massive, elaborate funerals are the standard for law enforcement officers who die in the line of duty, and not just those whose deaths were homicides. In 2014, 121 out of 900,000 law enforcement officers in the U.S "made the ultimate sacrifice." Fifty-nine of them - less than half - were homicides (gunfire, vehicular assault and assault): (source)
| | | | |
| --- | --- | --- | --- |
| | Gunfire | 47 | |
| | Automobile accident | 26 | |
| | Heart attack | 17 | |
| | Vehicular assault | 10 | |
| | Struck by vehicle | 5 | |
| | Vehicle pursuit | 5 | |
| | Motorcycle accident | 4 | |
| | Assault | 2 | |
| | Gunfire (Accidental) | 2 | |
| | Duty related illness | 1 | |
| | Drowned | 1 | |
| | Fire | 1 | |
| | Total: | 121 | |
These elaborate funerals are not spontaneous. In Michigan, they are organized by the Michigan Sheriff's & Municipal Memorial Assistance Response Team (S.M.M.A.R.T.), created and led by Lieutenant Timothy Jungel of the Eaton County Sheriff's Office: (source)
The team's purpose is to help the family and department by alleviating the stress of planning a funeral in order to allow them to take time for themselves to begin healing and dealing with other emergencies. The team is available 24-hours a day, responds to the community following the tragedy, and remains on-site until the final call. There is no cost to the requesting agency for S.M.M.A.R.T.'s services. [emphasis added]

An important element of a law enforcement memorial service is the role of the Honor Guard unit, which traditionally helps plan the ceremonial aspects and logistics of the service. As the Honor Guard/Color Guard Coordinator for his agency, Lieutenant Jungel is responsible for the "casket watch," the visitation, and the funeral and graveside services. He also coordinates the pallbearers, the bagpiper, and the bugler. Lieutenant Jungel has attended every funeral the Michigan Sheriff's Association's S.M.M.A.R.T. team has assisted with since its inception in 2003.
If there is no cost to the requesting agency for S.M.M.A.R.T.'s services, who does pay? Eaton county? The costs must be enormous. There is the time spent by the officers on casket watch and the hundreds of officers from all over the state who attend the funeral. Are they on payroll? Who is feeding them? What about the police cars in the procession to and from the funeral; who is paying for gas and wear-and-tear? What about the bagpipers, the horse, the bugler and the helicopters? And the hook-and-ladder trucks used to hoist the flag? How much of this big show is paid for by the public?
If someone other than we taxpayers is picking up the bill, we'd like to know so we can thank them.
From a 1/14/15 email to me from Chief Robert Stevenson (Ret.), Executive Director, Michigan Association of Chiefs of Police:

I am actually on the SMMART Team as one of the leaders. The SMMART Team is operated by the Michigan Sheriff Association and the Michigan Association of Chiefs of Police. We are both private Associations. The costs associated with our team come from monies donated to us by companies that have a different opinion than you do. There are very little "costs" associated with the funeral. Almost everything is donated.
Regardless of who is paying, the big show has a purpose other than honoring a fallen officer. It draws public attention to law enforcement officer deaths, exaggerating the dangers they face. You don't see elaborate funerals for roofers killed on the job. Roofers are 4th on Forbes Magazine's list of America's 10 deadliest jobs. Public safety officers are not among the top 10. It is true that police are often targeted by criminals, and some of their job activities expose them to other dangers, such as traffic accidents and heart attacks. But as for homicides, the death rate seems to be less than for the general population of men in their age range.
The funerals are just one way of publicizing officer deaths. There is also the Officer Down Memorial Page, which keeps track of all U.S. law enforcement officer deaths. (There is no comparable record of people killed by law enforcement officers.) There is the National Law Enforcement Officers Memorial in Washington DC. There is the Ingham County Law Enforcement Memorial in Mason. And coming soon to the west end of Lansing's capital complex is the Michigan Law Enforcement Officers Memorial Monument, as this sign a block east of MLK on Allegan says: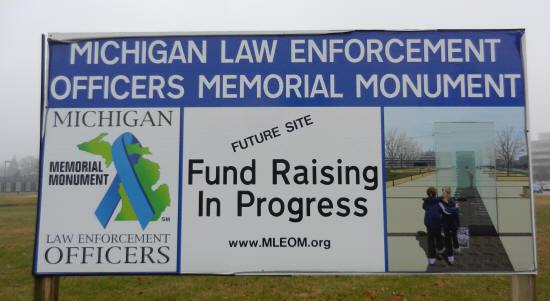 Here is the artist rendition: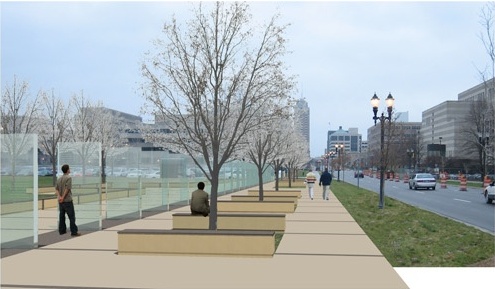 I believe the elaborate funeral is just another piece of a deliberate public relations effort by the law enforcement industry to bolster their heroic image, and it is not just for self-esteem. They want more money. They want more jobs. They want to grow the industry by keeping drugs illegal. They want to be given the benefit of the doubt when they kill and injure the people they are supposed to be protecting. And they want plenty of heavy weapons to play with. Here's what they've managed to get from the Michigan legislature:
An exemption from right-to-work.

A right to binding arbitration in labor disputes.

An exemption from the pension tax. Actually, it is not specifically public safety workers whose pensions are are exempt from the state income tax; it is any employees who do not participate in Social Security. But the groups who don't participate are typically public safety workers, and the exemption is unjustified. These employees are not disadvantaged by not participating in Social Security; they will receive no Social Security benefit, but neither do they contribute 12.4% of their salaries to the program (half from the employee, half from the employer).

An exception to the law prohibiting wage increases while negotiations continue after a collective bargaining agreement has expired. This became law on October 15 of 2014 (Public Act 322). Actually, the exception is for employee groups subject to compulsory arbitration, but the only groups subject to compulsory arbitration are public safety workers.

$25,000 and five years of health insurance for the surviving spouse and dependent children of an officer killed in the line of duty. (SB 218 of 2016)

A pass on the Fifth Amendment, which says no person shall be deprived of property without due process of law. Asset forfeiture laws allow police to confiscate property of suspected criminals. In Michigan, "Law enforcement agencies seized at least $26.5 million in cash and assets in 2012 . . . These funds are used for equipment, crime programs and matching grants to obtain more federal money." (source)
A final note on Deputy Grant Whitaker. The following is from the Ingham County Sheriff's website:
A memorial fund has been established for those who wish to contribute funds for Deputy Grant Whitaker's family. Checks or monetary contributions may be sent as follows:

Deputy Grant Whitaker Memorial Fund
Mason State Bank
322 S. Jefferson Street
P.O. Box 130
Mason, Michigan 48854-0130
The site does not mention that Whitaker was single and had no children. His "family" is his parents. His parents are also entitled to a $40,000 life insurance benefit from Ingham County, $333,604.68 from the federal government's Public Safety Officers' Benefits Program and $25,000 from Michigan's Public Safety Officer Benefit Program. That money is not taxed by the federal government. This is from IRS Publication 559, page 15: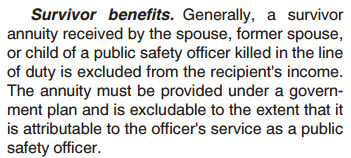 On top of that, there is Law Enforcement United, Inc., a 501(c)3 non-profit organization which solicits donations to support survivors of fallen officers and Concerns of Police Survivors (C.O.P.S.), which provides resources to help survivors and co-workers "rebuild their shattered lives." Locally, there is the Hundred Club of Greater Lansing, which raises money to provide immediate assistance and long-term support to surviving families of police officers and firefighters who die in the line of duty. And there is a theater group in Lansing called the Blue Light Players that is "dedicated to raising funds for the families of fallen police officers."
Send comments to stevenrharry@gmail.com.
Previous stories:
Support of collective bargaining is immoral - November 15, 2014

See what military equipment your local law enforcement agency got - December 11, 2014

New IAFF contract cuts pension benefits for new Lansing firefighters - December 6, 2014

80% of contributions to police union PAC goes to telemarketer - November 30, 2014

Lansing subsidizes second careers for police and firefighters - November 18, 2014

Survivors of public safety workers who die in line of duty get $333,604.68 from feds, $25,000 from state - November 6, 2014

Auto dealers get what they pay for - October 29, 2014

Elderly state retiree defends pension tax - October 9, 2014

Why death "in line of duty" matters: $333,604.68 - September 26, 2014

How dangerous is firefighting? - September 21, 2014

Do City, BWL managers contribute voluntarily? - August 25, 2014

Bernero sends a message - August 31, 2014

Ingham, Eaton, Clinton counties get lots of free military stuff - August 25, 2014

Non-candidate Virg Bernero rakes in $41,300 at breakfast - July 29, 2014

Is $66,000 too much for unskilled labor? -July 18, 2014

Taxing corporate income - July 12, 2014

Fund road repairs by increasing the income tax - May 25, 2014