Big funeral for bad lieutenant

November 16, 2015; updated January 27, 2016
If the funeral for Lt. Joe Gliniewicz of Fox Lake, Illinois doesn't cause us to question these publicly-funded, over-the-top extravaganzas, nothing will.
Gliniewicz was the officer who staged his suicide to make police believe he'd been killed when checking out a suspicious trio of men, 2 white and one black. A massive, expensive manhunt turned up no sign of the suspects, and after a 2-month investigation, Fox Lake police concluded that Gliniewicz killed himself to avoid facing charges of stealing thousands of dollars from the police department's youth auxiliary program to pay for gym memberships, porn websites, family vacations and mortgage payments. (source)
The whole Fox Lake community was shocked to learn this about a local hero. He had led the local police explorers' program, mentoring and training youths interested in becoming officers. He was a husband and father of four. (source) But a closer look revealed another side:
He was stockpiling in the basement of the police explorer post thousands of pieces of equipment illegally obtained from a military surplus program. (source)

In 2003, after a police dispatcher had been short with him, Gliniewicz threatened to "put bullets in [her] chest."

In 2009, a group of anonymous officers claimed that Gliniewicz had been suspended for six five-day terms "for an inappropriate sexual relationship with a subordinate." The officers also said that local bouncers complained about Gliniewicz's drunken behavior, and that he didn't pay a $300 bar tab. Further, upon being found in an intoxicated state at an Antioch bar, Gliniewicz was allegedly belligerent with the officers who discovered him.

Gliniewicz was also accused of grabbing women's breasts during a Christmas party and allowing members of the Explorer Post youth program to dress in police garments, "thereby misidentifying them as actual police officers."

Authorities are investigating whether Gliniewicz and his son, a soldier in the Army, conducted a sham marriage with Gliniewicz's mistress to improperly take money and benefits from the Army. With the addition of family, son Donald would get about $1,750 a month for being married and having two children to support. The mistress would get $500 and Donald would get the rest. (source)
Why did he go to the trouble of disguising the suicide to look he'd been killed by bad guys? Quite possibly, it was another way to steal money, this time for his family. Committing suicide would have disqualified his survivors from receiving the $339,881 they'd get from the federal Public Safety Officers' Benefits Program.
Unaware of all this back in September, the Fox Lake community was caught up in the elaborate, colorful funeral that has become the standard for officers killed in the line of duty. There was the procession of squad cars - 1,500 of them - along with dozens of motorcycles, stretching over a distance of 18 miles.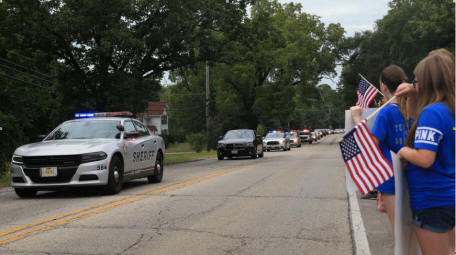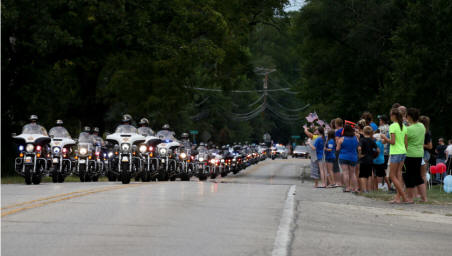 The procession passed under the obligatory U.S. flag suspended between 2 hook-and-ladder trucks.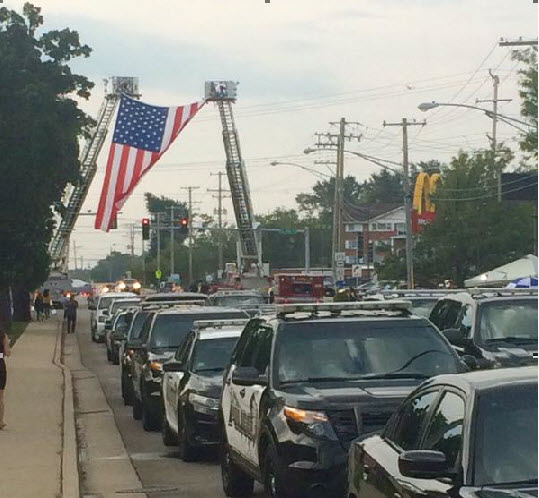 There were no less than seven helicopters flying overhead in the "missing man" formation.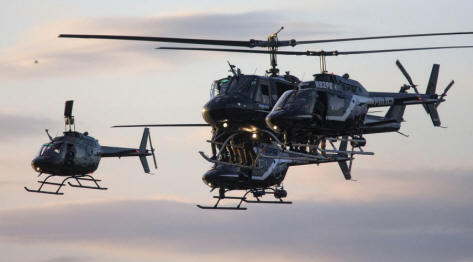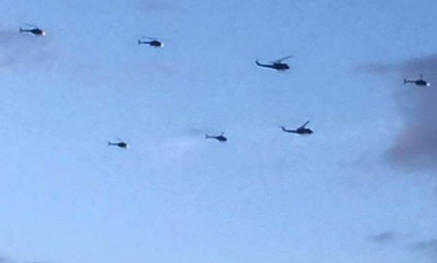 There were bagpipers in kilts, officers in dress blues and white gloves.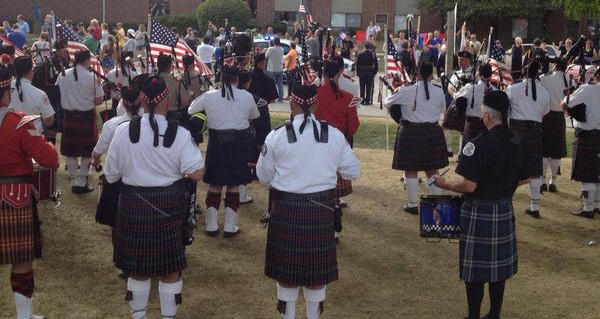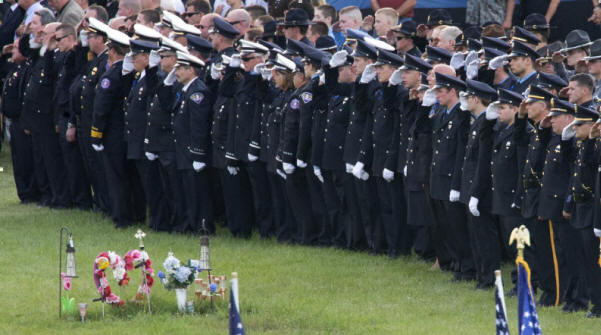 To receive a hero's funeral, it seems, all you have to do is wear a uniform and die on the job. The circumstances don't seem to matter. Ingham County Sheriff's deputy Grant Whitaker got the big funeral. He died last December when he ran off the road and crashed while pursuing a speeder at 117 mph at night on a 2-lane blacktop. Michigan state trooper Chad Wolf got the big funeral. He was killed when a motorist hauling a trailer unknowingly hit his motorcycle and dragged him several miles. Lansing firefighter Dennis Rodeman got the big funeral. He was run down by a mentally ill driver while being paid by the City of Lansing to collect donations for Muscular Dystrophy in the middle of the Jolly-Cedar intersection.
There is nothing wrong with paying tribute, and everyone loves a parade. But should public funds be used? Now that the people of Fox Lake know what a stinker Lt. Joe Gliniewicz was, I bet they regret the money spent on those fire engines and flags and helicopters. They can take back the posthumously awarded Fox Lake Police Department Medal of Honor and maybe the $201,000 donated to his family, but not the time spent tying homemade blue ribbons to trees and standing along the parade route. And I bet those 2000 officers who came from across the country wish now they'd stayed home.
Public safety officers - and others - do occasionally die heroically. They deserve some sort of public tribute. That honor is diminished, however, when every death in the line of duty, no matter how ordinary, gets the same attention. On the other hand, it would be a difficult job to determine which deaths are deserving and which are not. Which is a good reason to keep the government out of it.
If there is to be a big funeral, let the F.O.P. or the I.A.F.F. pay the bill. They are the ones who benefit from it.
Gliniewicz photo from Facebook; all others from this site.
January 27, 2016 update: Widow of Fox Lake Police Lt. Joe Gliniewicz indicted (CNN)
Send comments, questions and tips to stevenrharry@gmail.com. If you'd like to be notified by email when I post a new story, let me know.
Previous stories: